Marketing strategies have evolved drastically over time. The term digital marketing first appeared in the 1990s when commercial use for the internet began. It has grown to dominate the industry.
These days the best way to promote your business is through digital marketing. It is not even a choice anymore but it has become a necessity. Consumer's main method for brand and product research is using the internet. So, if your online presence is strong you can connect with a large number of potential customers.
The real estate industry is not long behind in the race, it has opted well to the new tricks in business. Various researches show that a huge percentage of homebuyers look for properties online first before buying. The first point of contact for a realtor with the client has become digitalized.
Hence, dominating the web has become an important focus in the real estate market. Dominating the web isn't as easy it sounds. To ease this process realtors, turn towards platforms such as real estate digital marketing agencies to guide them in this process.
Below we have listed down a few strategies opted by these agencies to enhance your web presence.
SWOT Analysis
SWOT analysis identifies strengths, weaknesses, opportunities, and threats from a digital perspective. It gives you insight into your current standing as well as drawbacks you can overcome.
This way you can function to best utilize your strengths. A real estate digital marketing agency will provide you with recommendations on how to minimize your weakness and increase your strengths.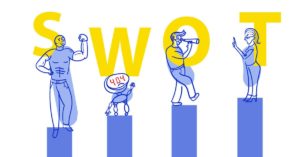 Content Marketing
The best way to gain and engage your audience is by providing great content. Creating relevant content can be time-consuming and hectic but with the help of a real estate digital marketing agency, this need can be fulfilled easily.
They can write great blog posts, articles, landing pages, etc. for your website and even help in email campaigns. They can conduct thorough research and provide you with the exact solutions for content generation.
Email Marketing Campaigns
Email marketing is one of the most cost-effective methods for promoting your product. Professional email marketers can help in engaging your clients. They send reminder emails to potential customers so you are always their first choice for their property needs. They also provide email newsletters to keep the customer aware of the latest trends in real estate brought to them by you.
Conversion Rate Optimization
Marketing agencies have a lot of tools and experts to help you out. Their conversion rate experts get you a higher rate of website visits to lead conversations. Higher website conversion rates would lead to higher sales.
Website Design and Development
The website is the first interface a consumer interacts with. A large percentage of consumers are likely to find you through your website. It's important that it has great content and gives a focused insight into your brand.
Marketing agencies will help you create an engaging website that is easy to use across various computing mediums. It will help your business look more credible.
Pay Per Click
Out of 97% searches, 41% clicks go to the top three paid ads showing up in search results. It is a great way to increase traffic to your page. It will help you secure more leads and sales quickly. Another plus is that there is no waiting period for it.
SEO Optimization
Why not begin where all online experiences start? Search engine optimization is a great way to increase your traffic, leads, and sales. It will help you gain more authority and bring you more qualified traffic.
With the right keywords and content, your website is more likely to pop-up in searches.
Social Media Marketing 
Social media has been revamping the concept of marketing. Almost everyone has an account on at least one social media app. What would be a better way to gain an audience than through social? The secret is to go where the crowd is.
Get a thorough social media marketing campaign plan laid out for you and reach out to clients on numerous platforms.
Video Marketing
Video content is likely to generate more traffic then textual and pictorial content. It is also more likely to show up in search results. Enhance your website experience by adding more video content. Hit more leads to greater client engagement.
Lead Recovery
Often such situations arise where you accidentally lose leads. This can turn out to be very costly as you end up losing potential revenue. You can use digital marketing tools to recover your potential leads and make the most of your marketing experience.
Website Chat Services
With automated chat options as well as live chat availability its easier to interact and keep up with your customers. It allows you to be free from customer service representative responsibilities while still being able to provide quick response to customer queries.