This beautiful and picturesque country is so much more than a backpackers paradise. Although there are plenty of adventurous things to do, it can be a perfect place to unwind and relax and disconnect from the world. Vietnam always has something to offer every kind of traveler so if you are looking for a laid back vacation that will put you in zen mode almost instantly.
Here's a list of the top ten things you can do in Vietnam for a laid back vacation-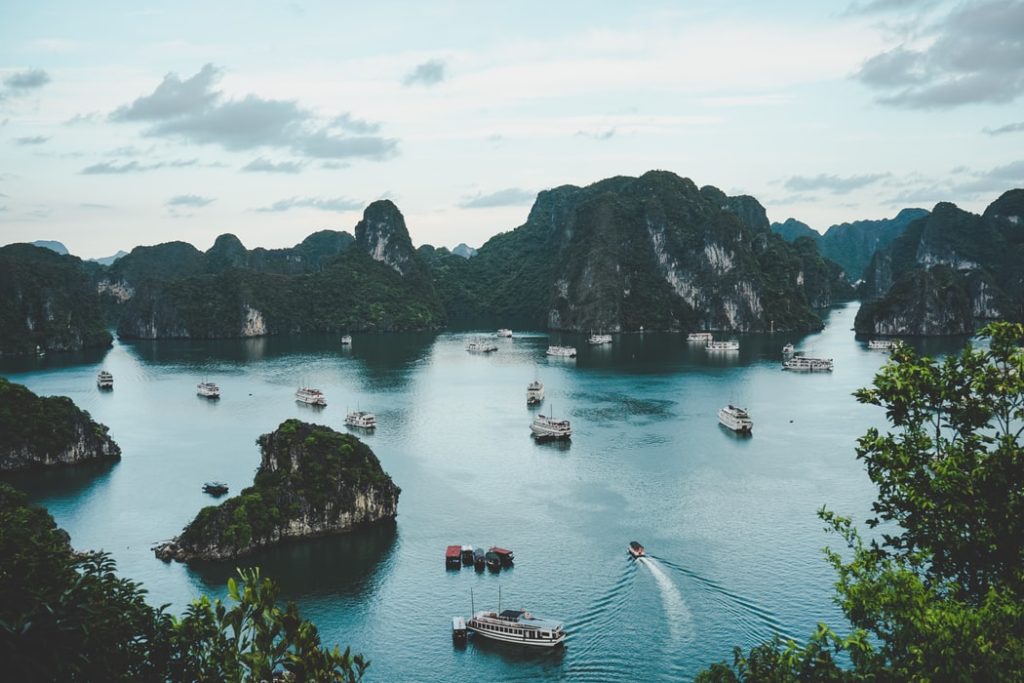 1. Cruise along Halong Bay
Halong bay is probably one of the top tourist spots in the country. This UNESCO world heritage site in scintillating and serene with all the limestone formations and beautiful islands dispersed in pristine blue waters. One way to explore this wonder would be to take an overnight cruise from Hanoi and spend a relaxing 1 on 2 nights on an all-inclusive cruise. There are multiple operators who offer such services and there are multiple options available at different price ranges as well. It is a perfect way to enjoy the beauty of Halong bay while staying in the comfort of your room on the boat.
2. Experience a traditional homestay
If you are planning to visit the northern part of Vietnam, you should really consider booking a homestay. This is a wonderful way to connect with the locals and enjoy nature at its best. Staying in one of the stilted houses in Sapa calls for an authentic Vietnamese experience while you get to enjoy the perils of discovering cute spots around the plateaus. There are a few waterfalls as well where you can take a dip and just enjoy being amidst nature.
3. Take a boat ride along Mekong delta
Visiting a fishing village is a very unique experience that you should not be missing while you are in Vietnam. Mekong delta is known for its fishing village where you can see the locals set up stalls that sell organic produce in either boats or small stalls that are placed on stilts over the river. The best part about this experience is that the boat ride that takes you here is through a mangrove which makes it all the more relaxing. You can get your postcard shots while chilling on the boat while you ar eon your way to the fishing village.
4. Walk the streets of Hoi An
For anyone who likes strolling along international streets, this is your place to be. This UNESCO listed spot is filled with traditional houses that escaped the gruesome Vietnam war. These buildings stand as an ode to the past and how beautifully the country has recovered ever since. Take a walk along the streets of Hoi An after dusk to truly soak in all the historical goodness of Vietnam while admiring the traditional lanterns that light up your mood.
5. Chill by the beach in Nha Trang
Nha Trang can easily be called on the top tourist hotspots because of the variety of activities it has to offer to all kinds of travelers. You can either go diving and get an adrenaline rush or you could just lay on the beach and sunbathe your day away. Either way you are going to have a great time. The beaches are clean and the views you get from here are really calming as well. At night, the city lights up and you can call it a day while enjoying some delicious seafood by the beach.
6. Relax amidst a jungle in Phu Quoc
Phu Quoc is hands-down the best spot to relax if you are planning on having a laid back vacation in Vietnam. If you are skeptical about hopping between multiple cities, you can very well just stay in Phu Quoc for even a week if you'd like. Let's just say it is an island destination that will not burn out your wallet. This pretty island is everything you need for a relaxing vacation. The beaches are beautiful and there the inland is mostly a jungle thus making it a perfect place for a natural retreat. There are plenty of amazing stay options for any budget range. You can literally book a nice private pool villa with a pool for just about INR 15000 per night which is almost half the price when you compare it to many other island destinations in Southeast Asia.
7. Have a spa day at Thap Ba Hot springs and mud baths
What better way to relax than to spend your day in a Hot spring and have a mud bath. Thap Ba Hot springs are everything you need and more to rejuvenate and connect with nature. There are a series of pools with both hot and cold baths where you can just soak in and relax. You could also opt for a mud bath where you slather your skin with some mud and then enjoy a warm bath. This is said to have healing properties as it has mineral properties that detoxify your skin giving it a youthful glow.
8. Visit Yang Bang
If you are someone who likes to discover hidden gems in nature, Yang Bang is your place to be. The mountains and forests give your dose of greenery for the day while you can find a bunch of waterfalls where you can comfortably take a dip and relax.
9. Go for a blind massage
Nha Trang tourist center and the surrounding area is known for its blind massage parlors. After a beach day, you can head out for one of these massages and let the masseuse work their magic. They offer a variety of massages ranging from Thai to Balinese massages. You can pick your favorite and call it a self-care day because why not.
10. Enjoy egg coffee at a local cafe
Sipping a warm cup of coffee can be very delightful especially in Vietnam. Local cafes proudly roast local coffee beans and make some of the best coffee you will ever come across. If you are looking for something more interesting, try egg coffee which is a very famous beverage. The consistency and flavor of this drink will calm your heart, mind, and soul.
These are some of the things you could do to enjoy a relaxing holiday. If you are looking for an escape, Vietnam is an ideal place because you can feel peaceful and relaxed even when you're not doing much and you will not have to spend too much either. It doesn't matter whom you're traveling with, you will be able to find your niche for sure.
Do check out Vietnam tour packages available on Pickyoutrail's website. You can find multiple itineraries that are 100% customizable. You can also get in touch with their in-house destination experts who can help you find the right itinerary and make all the bookings for you. All you have to do is pack your bag and be ready because they care about everything else.